Team Leads, QA and Design
·
Helsingborg
·
Hybrid Remote
UX-Designer till techbolag i Helsingborg
Som UX-designer på produktbolaget Smart Refill är du med och utvecklar användarupplevelse i appar & webbtjänster som används av 100 000-tals användare, dagligen.
Välkommen till Smart Refill!
Vi designar, utvecklar och driftar smarta digitala tjänster inom branscherna telekom och finans, med en specialitet inom säkra betal- och informationslösningar.
Vi söker nu någon som kan ansvara för hela design-kedjan, från att skapa wireframes till att leverera UI-design till utvecklare, men också någon som kan visualisera, paketera och konceptualisera en idé som kan säljas in till potentiell kund.

På Smart Refill kan du se fram emot att jobba med varierande projekt inom både telekom och fintech. Just nu har vi många nya spännande projekt på gång; exempelvis så är vi ett av ytterst få bolag i Sverige som har tillstånd för e-pengar, något som vi nu utforskar möjligheterna kring och som du kommer att bli en del av.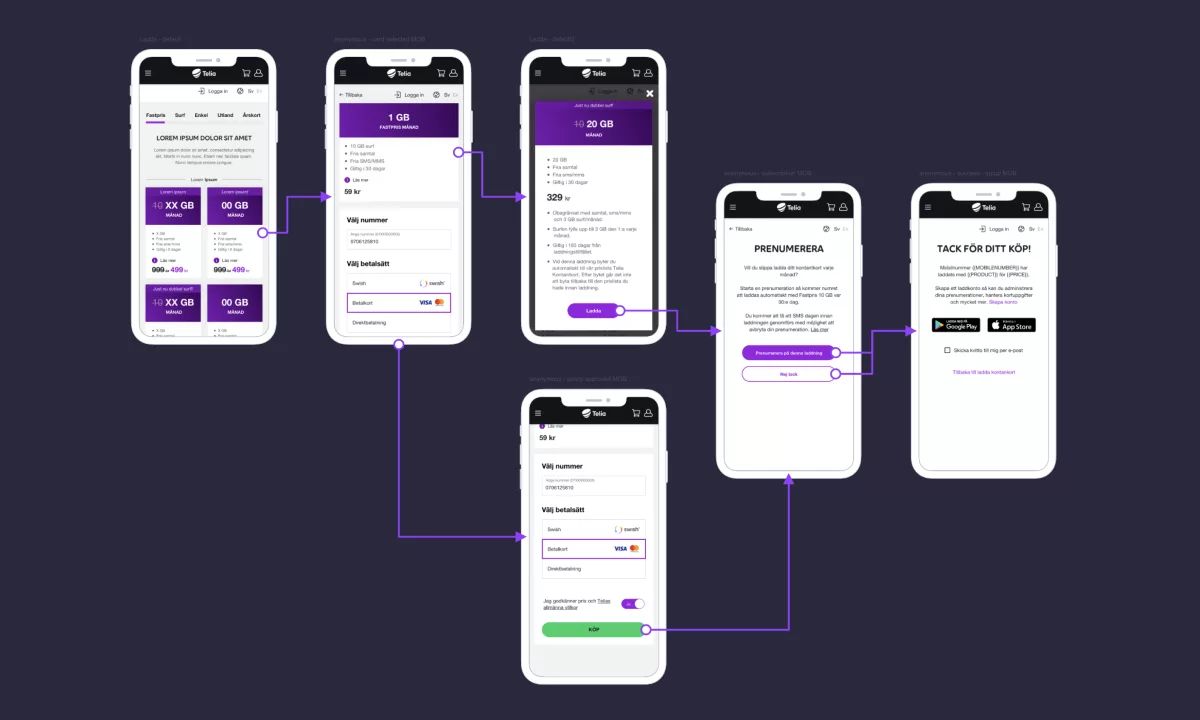 Exempel på arbetsuppgifter:
Ta fram designförslag i samråd med interna stakeholders och kunder.

Skapa wireframes och klickbara prototyper (exempelvis i Figma).

Leverera designunderlag enligt interna teams gemensamma planering inklusive hifi-skisser och grafiska komponenter för Web, Android och iOS.

Vara med och driva, visualisera och paketera koncept (digitala produkter och tjänster).

Kvalitetssäkra design och UX på företaget.

Hjälpa till när det behövs presentationsmaterial, uppdatera intern hemsida, beställa eventuella tryck-saker etc.
Verktyg vi använder: Figma, Sketch, Overflow, Jira, Adobe CC (Photoshop, Illustrator, After Effects)
Du ska gärna trivas med att hålla i presentationer och workshops och du förväntas vara en drivande kraft både internt och ut mot kund. Tjänsten kommer att innebära kundbesök, både till befintliga och nya kunder.
---

Varför Smart Refill?
Att jobba på Smart Refill innebär mycket frihet och eget ansvar med stort inflytande i en verksamhet där din input värderas högt. Vi har flexibla arbetstider, frihet att arbeta hemma och stora möjligheter till kompetensutveckling.

Hos oss kan du förvänta dig ett klimat som präglas av glädje och gemenskap, mycket distribuerat ansvar och beslutsfattande, snabba förändringar och högt i tak - både bildligt och fysiskt. Vårt kontor är nämligen beläget högst upp på Helsingborgs Central, i en penthouse-våning med en fantastisk 360 graders utsikt över Sundets Pärla.

---
För att få chans att bli vår kollega:
För att vi ska vara rätt för dig och du vara rätt för oss kommer vi att utgå från följande checklista:
Krav
Erfarenhet av Sketch eller liknande verktyg

Erfarenhet av wireframing och prototyping

Erfarenhet av UI-design

Erfarenhet av att designa för mobila enheter

Erfarenhet från produktbolag (inte enbart erfarenhet från reklambyrå eller liknande

Arbetat med UX-design under minst ett par år

Talar och skriver obehindrat på svenska och engelska

Skicklig kommunikations- och samarbetsförmåga

Tar egna initiativ

Prestigelös - du rycker in där det behövs
Meriterande
Erfarenhet av att designa appar

Relevant utbildning inom UX eller motsvarande

Drivit projekt under eget ansvar

Erfarenhet av analysverktyg (exempelvis Google Analytics)

Bra på att skriva copy som både är informativ och användarvänlig

Erfarenhet av animering (rörliga ikoner eller illustrationer)
---
Varmt välkommen med din ansökan till ett bolag som har de rätta förutsättningarna för att jobba med digitala tjänster i framkant. Varmt välkommen till Smart Refill!
PS. Ansökningar med portfolio kommer prioriteras högst upp på listan
Department

Locations

Helsingborg

Remote status

Hybrid Remote
Culture & Diversity
Here at Smart Refill, it really is a feeling of "Finally-Monday". We even have a self-composed Monday song to get in the Smart Refill mood! This wonderful atmosphere is not something you can buy for money; our team spirit is created together and grows stronger every day. We love our frequent After Works, and FIFA tournaments are a common sight in our game room. It is easy to go "tura" with the ferries to Denmark, as our office is in the same building as the docking platform. There's free breakfast every day and a cookie storage when the craving for sweets kicks in. Life is good at Smart Refill!

We are also very proud of our diversity. In all our development teams, we have women represented and of course also in the management team. English is our corporate language and in total at Smart Refill we speak over 15 different languages fluently - in addition to the many programming languages we obviously master 😉

About Smart Refill
Swedish software company Smart Refill is the leading fintech partner to telecom operators. We help TelCos reduce cost and focus more on their business by connecting our integrated payment solution to their existing systems and automating airtime purchase and activation flows. We're a PCI-DSS Level 1 certified e-money Institution (PSD2) and a Licenced Digital-Post Provider working with customers like Telia, Telenor, Tre and Ezys since 2006. Optimise your business by partnering with us for all your fintech needs, present and future!